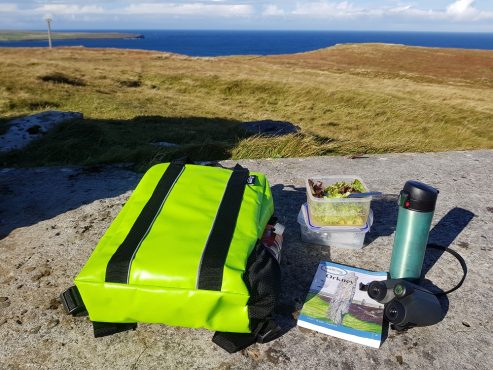 An island-hopping day trip to Rousay with my LEE Day Rucksack – Susanne Arbuckle
Thanks to its compact size, Scotland is the perfect country to go sightseeing on a day trip.No matter where you live, you are never far away from a sprawling forest, a golden sandy beach, verdant green rolling hills, or even a city escape. Living in Orkney means a day out for me often involves a ferry hop to explore some of my island neighbours.
Recently I made a return visit to Rousay which is only a 35-minute ferry ride away. On this trip, I wanted to include a walk around Faraclett Head with a plan to stop for lunch along the way. Of course, I needed a bag to carry all my essentials (and my dog's essentials!) and was excited to try out Montrose Bag Company's new LEE Day Rucksack.
The last time I went to Rousay, the driving rain was horizontal and the wind was strong enough to strip a few layers off any exposed skin! Thankfully, the weather on this trip was much kinder, with balmy autumn sunshine warming my bones. I'd never been to Faraclett Head before and was looking forward to seeing the views from the highest point above the cliffs on the 2.5-mile circular hike.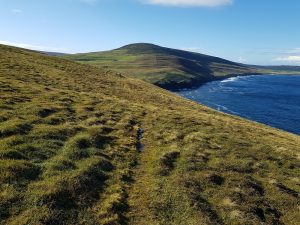 Starting at a small car park, the route climbs steadily up through farmland, crossing stiles and fields of sheep and horses, before reaching rugged heather-clad moorland. From here the view starts to open up along the valley and I got my first glimpse of the curving coastline with large frothy waves pounding the rocks far below. The string of wooden marker posts was easy to follow and after a moderate uphill walk, I reached the summit where the panorama of surrounding islands was breath-taking.
With the sunshine still beaming down, a little stone shelter was the perfect spot to rest and unpack the food and flask from my rucksack and enjoy a lunch with a view. I had also popped my binoculars in my bag and spent some time scanning the sea for the whales and orcas that frequent Orkney waters but unfortunately, I had no luck on this occasion.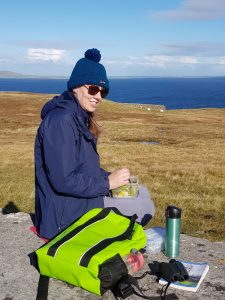 After refuelling, I enjoyed a wee rest as it was just too nice a day to not sit and savour the surroundings for as long as possible. When I couldn't justify lounging about any longer, I headed downhill past grazing sheep and across several more fields back to the car park. With some time left to spare before my ferry home, I finished off the day at Saviskaill Bay, a short stretch of sand on the north end of Rousay. Although the beach is small, the adjacent sea is teeming with seals which makes a visit worthwhile. All too quickly my day out was over but what a great day out it was.
Living next to the North Sea means I know how wild it can be and it is reassuring to me that Montrose Bag Company products are tried and tested against the worst that the North Sea can throw at them. Thankfully on this day out my LEE Rucksack didn't have to survive the harsher elements I endured on my last visit to Rousay but at least I know my lunch would have stayed dry if it did! I found that my LEE Day Rucksack was perfect for my mini outdoor adventure and the grab handles on top will allow me to carry it on as hand luggage when I'm flying too so I'm doubly happy. I comfortably carried everything I needed (and still had a good bit of space left) including –
Lunch (for me and Willow)
Flask
Water bottle (which fitted in the handy side netting)
Guide books/map (separated in the interior compartment)
Camera
Binoculars
Phone charger
First aid kit
Fleece and dog jacket
I have been a fan of this Scottish family business since I first tried the Jura Kit Bag 3 years ago which has accompanied me on most of my longer adventures around Scotland and I'm always impressed at how robust it is. In fact, I love it so much that I bought my husband one too which he now uses for transporting his wetsuit and snorkelling gear around the country. I also added a Clova Packing Organiser to our collection which is ideal for separating muddy outdoor shoes from clean clothes. I'm delighted that I now have a comfortable, waterproof and spacious rucksack to add to my Montrose Bag Company products. I also love that I have added lime green to our cheery set of orange and yellow coloured bags. With an ever-growing range of top-quality handmade Scottish products, I'm sure this won't be the last addition to our Montrose Bag family.
Many thanks to Susanne from us at Motnrose Bag Company for this insight into Rousay and for testing out our new LEE Day Rucksack. You can find Susanne on the social channels below and on her website here: Adventures Around Scotland.
Facebook: Adventures Around Scotland
Instagram: Adventures Around Scotland
Back to News