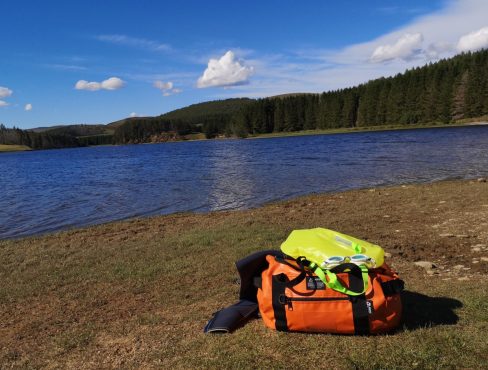 We recently caught up with Simon Calvin, who is a huge outdoor enthusiast and fan of our Montrose Bag Company products. 
Simon is based in the East of Scotland in Kirriemuir, but his hobbies, which include everything from sea kayaking to wild swimming, take him throughout Scotland. Simon uses one of our kit bags to carry his kit when out and about.  We spoke with Simon about his outdoor adventures.
You can find Simon on Instagram here: simoncalvin57
Where is your favourite spot in Scotland when doing one of your hobbies, be it wild swimming or kayaking? The East coast around Arbroath and Stonehaven really do take some beating for kayaking. Amazing cliffs, fantastic sea caves, great wild life, secluded bays and generally not too many folk about. On a good day I would not paddle anywhere else.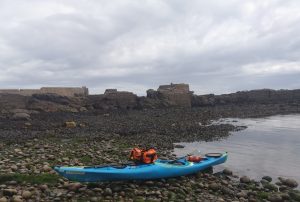 When did you first take an interest in your outdoor hobbies? I started young! Fell walking as a wee lad with my Dad in the Lake District, then rock climbing, learning the ropes in Belgium where we lived, and later all over the UK, Europe and US. Holidays were often spent mountaineering in the Alps. At university in Wales I really broadened my interests, kayaking, caving, surfing, mountain biking and fell running were added to the list. Moving to Scotland 25 years ago with my wife meant that skiing, downhill and cross country, were added and I could do more ice climbing. More recently I have taken up road cycling. I do a fair bit of trail running around Kirriemuir with my two dogs.  My wife is a wild swimming nut with huge experience and I occasionally take a dip with her, but don't try to keep up!
Tell us about your best ever experience in the outdoors? The best are a combination of where you are, the weather and who you are with-no need for hard core adrenaline filled action all the time. Having the right kit really helps. I have had so many epic days and trips it's hard to pick one out. My wife, Fiona, is often with me and it's great to be out with your partner. In my youth I climbed the Nose route on El Capitain in Yosemite Valley in California in four days, a truly memorable climb. Equally, a four day kayak trip down the River Spey here in Scotland is as great an adventure that anyone could ever ask for. We have so many adventures on our doorstep here in Scotland.
What would you say the benefits of living in Scotland are to an outdoor enthusiast? Access, access and access-we are so lucky that we can go pretty much where we please, but that freedom comes with the huge responsibility of behaving in the right way, no trace is the only way. We have world class mountains, rivers, cliffs, beaches, lochs, seas and forests. Get out and explore!
What is your favourite time of year for outdoor pursuits in Scotland, does the cold weather put you off? Feeling the warm sun on your back is a real joy and takes some beating, however, the midges are out and the river levels drop so kayaking can be limited. Autumn brings the colour, shorter days and river levels rise. A trail run through a Scottish forest in the autumn takes some beating. Winter is magic when the snow is good and the gullies ice up. A blue bird day skiing at Glenshee is pure magic, as is gliding through the forests on perfect powder on cross country skis. Spring is all about promise and longer days, ditching the head torch on the morning run and warmth in the sun. As for the cold, be prepared in terms of equipment and always have a plan B and be prepared to turn back if your instincts tell you so. A coffee in the local café tastes so much better in the winter!
You mentioned you are a keen camper, what would make for a perfect weekend living outdoors in Scotland?  A river, loch or coastal paddle to a remote camp spot, warm spring sun, no midges, calm conditions with friends or my wife, good camp food and a bottle of wine!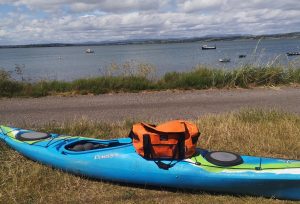 What would you say to an outdoor sports novice to entice them into trying a new hobby, and what would your advice be to anyone trying one of your hobbies for the first time? Do it! Don't be the one who later on in life says, "If only…". Do not use age as an excuse, it's a mind set. Safety must be a priority, so go with someone experienced or hire a guide or go on a course. I'm not a great club fan, but clubs are a great place to get introduced to a new sport safely. Don't over reach yourself early on, build on experience. Equipment wise, get the best you can afford, most expensive does not mean the best, buy well and buy once. Look after your kit and it will look after you-I'm still using a wetsuit I bought as a student, a long, long time ago. Embrace it, enjoy it.
Thanks so much to Simon for sitting down to answer these questions for us, we hope you find some inspiration in here to head outdoors and explore what's on your doorstep.
You can find our JURA kitbag and our full product range here
Back to News