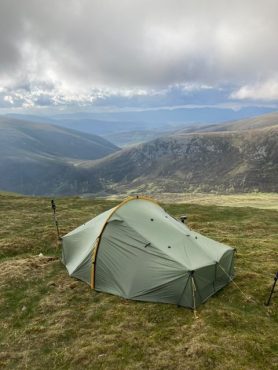 Guest Journal – Dave Does Outdoors
In our guest journal this week, we caught up with Dave from Dave Does Outdoors, who was the lucky winner of our Summer Photography Competition winning a Jura 24" Kit Bag and the complete Clova Travel Set. Dave chose his set in our bright Orange colourway – which we think was a great choice! We've recently added a new colourway to our CLOVA range – Olive green, check it out here if you're interested in seeing more.
Dave is an outdoors enthusiast based in Scotland, enjoying wild camping and walking adventures. We chatted with Dave to see how his prize has been serving him and what he has been up to on his adventures so far this year.
You can find Dave on Instagram here: @davedoesoutdoors.
What has been your favourite adventure to go on this summer?
I have been lucky to get out on a good few adventures this summer. It's tough to pick my favourite. If I had to pick one, I would pick the Monroe Glas Tulaichean. This is my 'Solo Munroe Summit' on my Youtube channel. I had attempted this Munroe before and did not manage, so to finally get it and camp at the top was amazing. We even managed a river wild swim on the way down, which is always amazing.
See Daves 'Solo Munroe Summit' video here:
https://www.youtube.com/watch?v=qERCxSFOf14&t=447s

Do you have places local to you that you go camping/walking regularly?
Living in Fife where I do I am lucky to have easy access into the country side. Having our little dog Audrey gets me out every day. When out with our dog I am often checking out potential camp spots. I live near the coast which offers plenty of potential for camping and fires.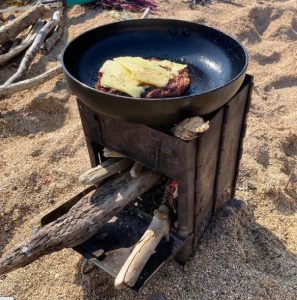 How did you cope the lockdowns and restrictions over the last few years? Have you found that your love for the outdoors has grown?
Covid 19 has definitely brought challenges for us all. Having our movements restricted has been a real challenge over the last couple of years. Again having our dog Audrey has been great, going on daily walks. Getting out doors for me has been a life saver and has helped enormously to cope with the pandemic. Our mental health has been impacted, so anything that will be a positive support is important. We need to keep positive and strong; together we will get through this.
We saw your lovely dog Audrey accompanies you on your adventures, do you have any tips for people camping with their pets?
Camping with pets can be so much fun. Audrey is great company. Taking your pet away takes a little planning. You need to get the basics, food, bedding and lead. As long as you know your pet you should be ok. Remember to keep all dogs on leads if around sheep and livestock.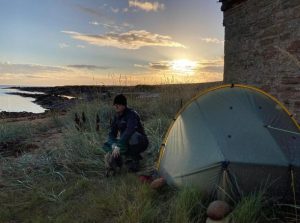 Do you prefer the coast or the woods?
I enjoy mixing my destinations up between the woods, the coast and the mountains. I find the different scenery more exciting. They all offer slightly different challenges and rewards.
We saw on a recent video of yours that you were using the Clova Wash Bag as a bag to keep your cooking kit in when camping, how have you found your Montrose Bag Company products so far?
When out on adventures, either miles away up mountains, or local and close the equipment you use is very important. I was lucky to win some of the bags that the Montrose Bag Company produces. They gave me a choice of colour, I went for the bright orange. I have been super impressed with the build quality, they feel strong, durable and look cool. I am sure they have a bag for every adventure need. Keeping my kit together, organised and dry are key for a successful trip.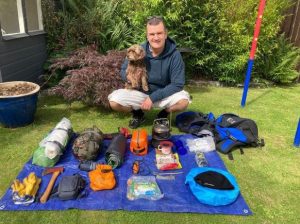 Do you have any tips for beginners on what kit to take on a wild camping trip?
I would encourage anyone to get out into the great outdoors.
Think local, even pitch a tent in the back garden. Build your confidence and skills over time. The more you do it the easier and better it will become. The benefits of being outside are massive both on our physical and mental health. You can do this by yourself or with friends and family – both are fun. Check out my video where I run through some of the basic kit and advice. ' How to wild camp- beginners guide'
See Daves beginners guide to wild camping here: https://www.youtube.com/watch?v=LQSjtjy_AVk
Where's next on your list?
I have a few plans coming up, definitely get back up North and get a summit camp with views. I am also looking forward getting back into some of my local woods that I have not been in for a while. This winter I am determined to get few snow camps done. My Montrose bags will be on my essential kit list. Our little dog Audrey will be by my side enjoying the adventures as much as me.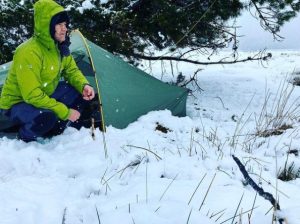 Thanks so much to Dave for sitting down to answer these questions for us, we hope you've find some inspiration in here to head outdoors and explore what's on your doorstep – safely and responsibly of course!
Back to News