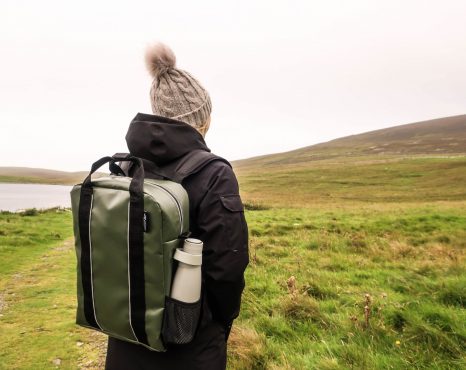 The LEE Day Rucksack is perfect for a day outdoors or for your everyday commute. Our new waterproof Olive and Lime materials are supple but ultra-durable. Available on our website now for Pre-Orders, find it here.
Our new LEE Day Rucksack takes its name from Loch Lee, a reservoir in the southern Grampians of Angus.
Loch Lee is situated at the head of Glen Esk. The Water of Lee joins to meet the Water of Unich and the Water of Mark to form the River North Esk, which flows down to the North of Montrose. Many of the products in our collection take their names from the surrounding Angus glens and places nearby our workshop which is in Montrose. If you fancy looking closer into the location of Loch Lee, find out more information here on the Visit Angus website: https://visitangus.com/loch-lee/
We've decided to take pre-orders for these new products so that we can manufacture these as a small batch. This way we can limit material and production waste as much as possible. They will be dispatched during the W/C 6th of December 2021. We will keep you up to date with the manufacturing process and let them know when they are on their way to you!
The Lee Day Rucksack has 20ltrs capacity and an internal sleeve pocket which would be ideal for a laptop. Other product Details include, subtle high vis reflective piping on front, heavy duty webbing handles and padded rucksack straps. The back of the bag is made with padded with breathable material and our trusted 100% waterproof PVC is on the outer front and sides. We've added a mesh water bottle pocket to the side for quick access to a refreshing drink while you're out and about.
Back to News