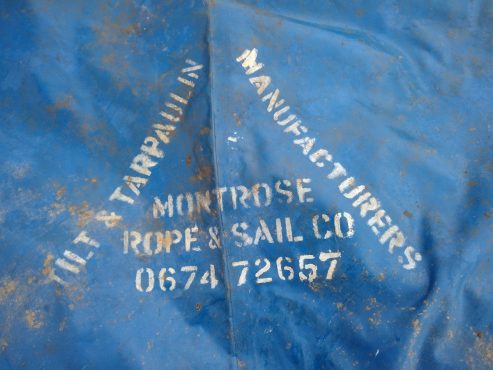 We were recently sent this picture of an old tarpaulin cover from a customer of ours! We reckon that this one was first manufactured back in the late 1980's. In extremely good condition, this tarpaulin really does show how our products withstand the Scottish outdoors.
Before we welded on our badges, we used a stencil and paint to brand our products. Today, our covers get a small badge applied so that they have the Montrose Rope and Sail seal of approval. This way of working is a lot quicker than getting the old brush and stencil out and I'm sure you will agree is a lot more in line with the company today.
You will notice that the triangular shape of the stencil is still represented in our current logo, which has two triangular shapes interlinked. A nod to the M of Montrose and the mountains and hills that surround the area in Angus.
We enjoy looking back to look forward again, and did you know that we are celebrating our 230th year in business this year? Do you remember our products which had a stencil applied or do you even own any 'vintage' Montrose Rope and Sail products which are still in good condition? We'd be delighted to hear your stories!
We are working on something exciting for later in the year to show just how far the business has changed and progressed over the last 230 years. Stay tuned for more!
Back to News