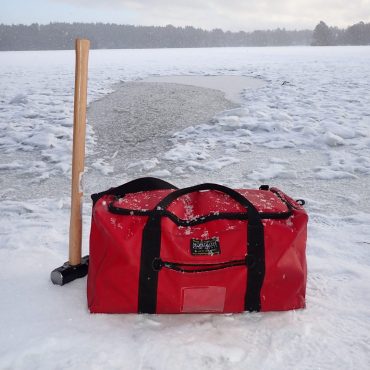 We spoke to Sarah from Beyond the Water recently about all things open water swimming after we saw on social media that she uses one of our kit bags to take with her. Sarah is an open water swim coach based in Aviemore, Scotland. She filled us in with some information about Beyond the Water as well as, other information regarding the benefits of heading outside to get your swim on!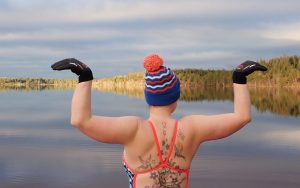 What is Beyond the Water and what do you do?
Beyond the Water is based in Aviemore and was founded in 2018 by me: Sarah Wiseman.  We are an Open Water Swim School as well as an Approved Training Provider with the Swimming Teachers Association (STA) with a training partnership with the Chartered Institute for the Management of Sport and Physical Activity (CIMSPA).
We offer award winning STA level 2 qualifications covering open water swimming coaching, pool-based teaching and continued professional development programmes. We work with training partners throughout the UK to provide these qualifications in a variety of locations including Aviemore, Lancashire, Dorset, and Anglesey.
We offer a range of coaching sessions for children aged 5 and up right through to adults.  Sessions available include weekly learn to open water sessions, introduction to open water and training sessions for those looking to get event ready!
How have you coped with the lockdowns and restrictions? Do you have somewhere local you swim outdoors?
I have been fortunate enough to be able to continue elements of my work in an online format throughout the lockdowns along with the ability to provide a limited amount of face to face coaching when restrictions have been eased enough to allow.  As a business I have implemented precautions to become as safe as possible including COVID awareness training, reduced capacity for open water sessions and qualifications.
Living in Aviemore has meant I have been able to get outside and enjoy the environment around me including a few on my favourite swimming sports just a couple of minutes away from my home including Loch Insh and Loch Morlich.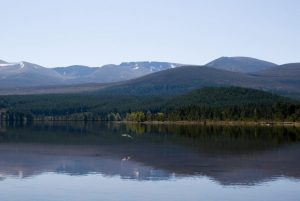 What do you think the benefits of outdoor/open water swimming are?
Open water swimming has seen a rise in numbers over the last few years and will likely keep increasing too.  Research has shown there are a host of health benefits both physical and mental when taking the plunge into cold water!
Some of which are:
Better circulation
Increased metabolism
Reduction of stress
Better sleep
Enhanced mood
Boosted immune system
For me, the benefits are more physical, I swim for the personal challenges it allows me to set myself.  I thoroughly enjoy the challenges of swimming in the outdoors during the different seasons throughout the year.  Winter swimming brings smashing through ice on frozen lochs with a sledgehammer, contending with harsh weather and bitter wind chills.  Spring swimming brings on the anticipation of warmer weather and a chance to increase and prepare for some longer distance swimming.  Summer comes with long distance swimming and training for events.  And lastly Autumn signifies the end of summer training and steady decline of temperature down the thermometer scales back to where we started with winter swimming and sledgehammers!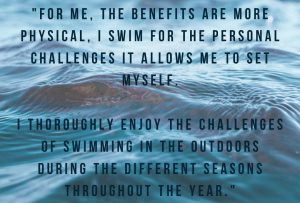 What do you use your Montrose Bag for?
I inherited my Montrose Bag a few years ago from my husband.  It joins me for every swim I do, I use it to store my kit when coaching or assessing swimmers undertaking qualifications! It has been to some amazingly beautiful locations on the west coast of Scotland and the Western Isles and joined me on gruelling long distance relay swims including the English Channel and Loch Ness.  I have used a few waterproof kit bags over the years but this one is by far the best! It holds its shape when empty so easy for packing things or standing inside when getting changed on sandy beaches or rocky shores!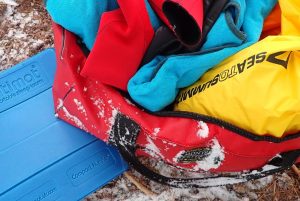 We see that you have been out in the snowy weather recently – do you need to take any extra kit with you to cope with those conditions?
My winter swimming kit compliments my summer kit, here is a peak at my typical kit list for the summer months:
Swimsuit
Towel
Swimming cap
Goggles
Tow float
Warm layers (fleece leggings, thick socks, base layer, jumper, gilet, down jacket, bobble hat, warm gloves, changing robe)
When the water drops to around 5 degrees, I usually swap my swimming cap and goggles for a bobble hat and add neoprene swimming socks and gloves and take an extra warm jacket.  Recently I have discovered a synthetic insulated skirt which is amazing for rewarming core and hips / thighs which feel cool for sometimes hours after a winter swim / dip.  And when the loch's freeze over I will take a sledgehammer with me to create access for a dip.  I have been swimming in open water for over 10 years and I have gradually built up my acclimatisation and tolerance for cold water.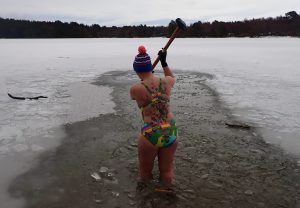 Many thanks to Sarah for agreeing to answer some questions for us. It's been educational and interesting to hear more about the benefits of open water swimming – we might need to give it a go!
What about you? Are you a seasoned outdoor swimmer or is it not for you? Join us in our conversation on our social channels!
If you're looking for the same bag that Sarah has from our collection, you can find it here: Offshore Kit Bag . It's a robust piece of kit, and has a capacity of 54ltrs. Our Jura Outdoor Kit Bag is a similar popular product that holds a little more at 61ltrs.
Back to News