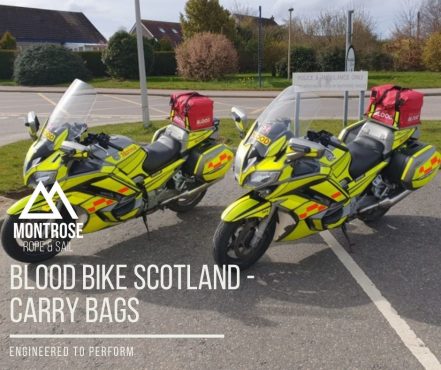 We were delighted to design, manufacture and donate 4 of these bespoke Blood Bikes Scotland Carry Bags back at the beginning of August.
The Blood Bikes Scotland Charity service is an important one, and one which has expanded this year due to the Covid-19 pandemic. We receive a letter of thanks from the Chairman of the charity, John Baxter, who said;
"The service has hugely increased over recent times and in 2019 we made almost 5000 successful deliveries for the NHS. Already in 2020 we have exceeded 5000 runs and our service has been hugely appreciated even more so during these times".
We have been eager to help out in anyway we can, so to provide these bags for this charity was great. To find out more about Blood Bikes Scotland you can find their website here; Blood Bikes Scotland
These products were designed to fit the back rack on the bikes and had webbing fixtures attached so that bungy could fix the bags in place when in use on the bike. These fixtures will make sure the volunteers travelling from A to B will arrive with their important supplies.
Using our trusted waterproof heavy duty PVC material this bag was designed to fit the insulated box that you can see in one of the pictures below. This allows the medical supplies to be kept at the correct temperature while in transit.
Also a requirement for safe travel and attention are the added high vis reflector strips on the webbing, which can be seen in the pictures below.
We think they look great on the bikes – what do you think?
We've made bags for sports teams, medics, fire fighters, oil workers, coastguards and lifeboat crews – in fact there's nothing we can't tackle! Our all weather products are designed to help you overcome the outdoors, are engineered to perform and designed and built to last.
We've supplied our all weather kit bags worldwide over the last 40 years, with all our products being designed, developed, manufactured and dispatched under the one roof, at our workshop in Montrose. If you'd like to get in touch with us about a bespoke enquiry:
Get in touch with us by email at: sales@montrosebagcompany.com
or give us a call on: 01674 672657
Back to News