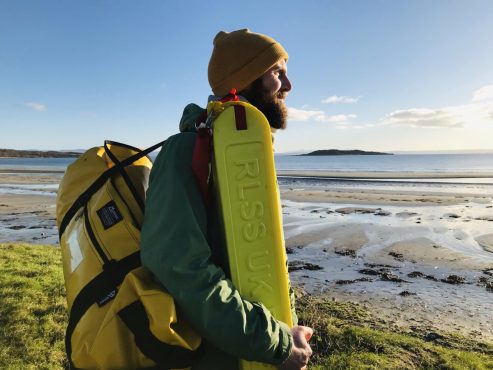 We recently caught up with Dan, Swim_DanTheMerman who is an open water swim coach based on the west coast of Scotland in Argyll.
Dan uses one of our kit bags to carry his swimming kit when out and about and is also a wild swimming guide. We spoke with Dan about all things open water swimming and how to make the most of the outdoors during the winter months!
You can find Dan on Instagram here: @swim_danthemerman_argyll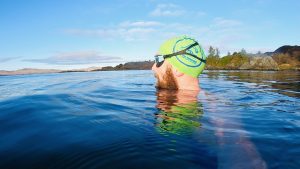 Where is your favourite spot in Scotland for an open water swim? 
That's a tough one. I've swam throughout Scotland, from the Outer Hebrides to the Borders. If I have to choose my favourite spot it would be the Argyll area, where I now live. The unique landscape of Argyll and the isles is unparalleled in Scotland for the variety it offers the wild swimmer, from sheltered sea lochs and turquoise waters in marine protected areas to pristine fresh water lochs amidst dramatic Highland settings. This means that depending on conditions, the enchanting landscape can provide relative shelter from the elements. We also benefit from the gulf stream here too!
When did you first take to swimming out in the wild?
I've been swimming in outdoor or open water throughout my life. I grew up in North London so had regular access to council run outdoor cold water lidos and wild swimming meccas like Hampstead ponds. My parents are from Ireland so I swam regularly on holidays in the sea in Donegal. I rediscovered my love and talent for wild swimming more recently in the last few years, living in Scotland.
What would you say the benefits are to open water swimming?
Good question. The holistic benefits from open water swimming are broad and numerous. From turbo boosting dopamine levels to improving sleep, metabolism, the immune system and the recent fascinating research into neurological benefits. When you combine the mental health benefits of simply being immersed in cold water with the stroke technique of open water swimming, there are very few activities that give the mind such total stillness and the body such total movement. For me, open water swimming is an unparalleled vehicle to connecting with the natural world around us, and with ourselves.

What is your favourite time of year to swim in Scotland?
I swim in open water throughout the year. Each time of year brings it's unique joys. In the winter it's cold in the sea off Argyll but not as cold as the lochs which means no jellyfish and you can get decent swimming distances in safely. The spring brings longer and lighter days and the summer of course means the water, both sea and freshwater, is a lot more inviting. The autumn is also a special time of year here in the heart of Argyll as the sea lochs are surrounded by ancient celtic rainforests so the colours are spectacular.
As we're pretty much entering the darkest months on winter here in Scotland, do you feel the benefits of getting outside and into the water?
Absolutely. Out here on the wild west coast of Argyll & the isles, the short days and wintry weather can be a challenge. However, by getting out and connecting with the wild water we can give our bodies the cold water thermogenesis boost it needs. Immersing in cold water during winter is a fantastic way of resetting the body and mind, giving it what it needs. However, its so important to approach this activity safely and booking in with your local professional open water swim coach or wild swim guide is the best way of getting the most out of it, equipping you with the skills you need.
We've seen that you enjoy a spot of foraging too? What do you enjoy looking for and do you cook with what you've found?
Yes, indeed! Being an open water coach and wild swim guide I love to connect to nature and that includes what I eat too. I'm lucky to live on the edge of and swim in one of the last remaining temperate rainforest environments in the world – on the west coast of Scotland. This means we're surrounded by ancient coastal forests which provide excellent bio-diversity so the scope for foraging is excellent. I've been on a course with a local expert, Heathery Heights, so I feel more confident in identifying "edibles" going into next year. Up to now I've kept to nettles and watermint (for making soup and tea (nature's superfood), using wild garlic for pesto and foraging for brambles to put in my morning porridge. There really is a bounty of wild food to be had around us, if we look closely enough. Always worthwhile checking land ownership and always take a little not a lot.

We imagine the feeling of swimming in the open water with amazing Scottish scenery must be really special some days when all the conditions are just right, do you have any favourite memories of a special swim you've been on?  (I say this question as I imagine sometime you must be in the water and think, "Wow. Can't believe I'm swimming here, right now" kind-of thing!)
This is a great question. I've been on so many poignant swims that have been life affirming moments. Too many to mention so I'll go with two swims I've been on recently near my home in Argyll. I went for a swim last month off the Knapdale coast to a deserted island. It was a misty day but as I got my head down to swim I marvelled at the stunning underwater realm of undulating reefs beneath me which was crystal clear and full of life. I observed as the marine life carried on, regardless of my presence and in that moment I felt like I belonged. A living creature of the sea. I was on equal terms with the natural world around me. The second swim was just off the coast of Gigha recently. I was swimming in turquoise water and a pristine beach. It was November but a sunny day, for a moment you'd think it was the height of summer. I was captivated by the colours of this majestic environment even at the start of winter!
What would be your advice for those wishing to try out open water swimming for the first time?
My advice would be to seek professional support. There are a lot of Facebook groups out there that although mean well, can have inconsistent and in some cases dangerous advice. A professional open water swim coach is legally responsible for your safety in open water and can provide excellent coaching to enable you to have a safe and valuable experience with specific skills you can take forward as an open water swimmer. I was trained by Sarah Wiseman, who as an open water swim coach herself is also a big fan of Montrose bags! She's trained a wide pool of coaches across the UK so check out your local coach.
Thanks so much to Dan for agreeing to feature on our Guest Q+A this month. We've loved hearing about his adventures in Scotland this year and hearing a bit more about the person behind the camera on the @swim_danthemerman_argyll Instagram.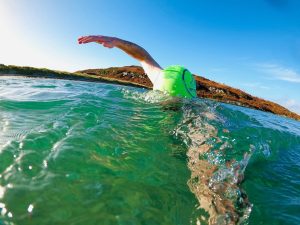 You can find Dan on Instagram here: @swim_danthemerman_argyll
And you can find our JURA Kitbag and our Full Product Collection; here.
Back to News