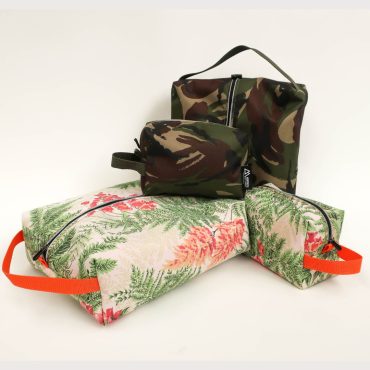 We're so pleased to introduce our brand new CLOVA Bloom and CLOVA Camo Travel Accessory Sets!
We introduced the CLOVA into our range in November 2020 and it's been a popular addition to our collection. Named after one of the Glens near us in Montrose, Glen Clova lies on the River South Esk, Angus, Scotland. These new additions in our bloom and camo patterned materials are the same design, just with an extra bit of style!
The Clova range was designed to compliment our range our of larger accessories and kitbags perfectly. Our kitbags are lightweight, utilise space and are often a large vessel. Adding our pouches and organisers to our range help you to separate your work kit and keep your belongings organised.
Our CLOVA Wash bag + Organiser Set, includes 2 products as part of a special deal. Consisting of our CLOVA Wash Bag and the CLOVA Packing Organiser. If you'd prefer a more plain version, this set is also available in our tried and tested Olive Green, Grey and Orange PVC materials, with our new reflective piping detail and rubber zip pull.
FOR MORE DETAILS ON EACH INDIVIDUAL PRODUCT READ ON HERE:
CLOVA Wash Bag
Keep your essential toiletries in one place whilst on the move with our new CLOVA Wash Bag. Designed to utilise space, this handy washbag doesn't take up too much room in your larger kit bag. Made in our trusted 100% waterproof materials, you can wipe it clean or wash it out should any shampoo spills happen.
CLOVA Packing Organiser
Designed in our 100% waterproof materials, our Packing Organiser can easily be wiped clean. The new Packing Organiser is designed to utilise and organise space. Storing shoes or work boots, keep outdoor wear separate from clothing. Additionally, you could keep your dirty and clean clothes separate. Similarly, smaller belongings together in one place while travelling.
Find our Camo Collection products here and our Bloom Collection products here!
Back to News