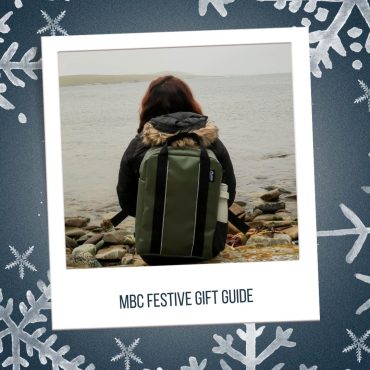 Outdoor Enthusiasts – Festive Gift Guide
We've put together a carefully curated collection for those in your life who are obsessed with adventure and the great outdoors. It covers our most popular and newest gear and accessories which we've added to the range this year and also a few old trusted products. All of our products are designed for the outdoors to protect your belongings against the elements.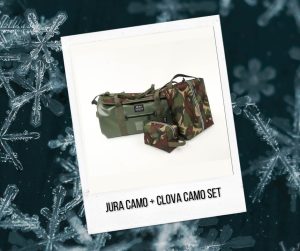 JURA CAMO + CLOVA CAMO SET
Our newest products to hit the Montrose Bag Company Website belong to our CAMO Collection and we love the JURA CAMO and the CLOVA CAMO set together. If there's too much Camouflage for your liking, our CLOVA Accessories set also comes in a new Olive colourway, find it here.
Designed to perform like all our products, the Jura Camo is designed and made in the same way but with a little bit extra style. Our new Camo material is 100% waterproof and a durable Acrylic Coated PVC so it will tough it out in the outdoors like any of our other kit bags.
The JURA CAMO comes in two sizes. The 18″ is the smaller out of the two and holds 44ltrs, which you can find here and is £48.20. The 24″ is the larger version holds 61ltrs, and is £51.35 Find the 24″ here.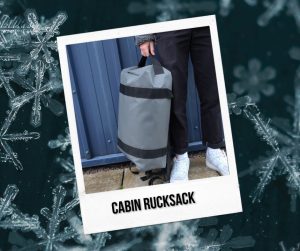 CABIN RUCKSACK
One of our most versatile and popular bags, this trusty cabin rucksack is £50.00 and has multiple straps so that it can be carried in a variety of ways, but it's also a super handy size. Perfect for weekend travel or those who can travel light, there is a horseshoe opening so you can get easy access to you gear inside. The opening is located on the side which is closest to your back for extra security.
The straps are adjustable and there is a grab handle on the top so you can quickly grab it off the luggage carousel or out of the overhead locker. Did you know this bag can also fit our CLOVA travel set too? Check it out here.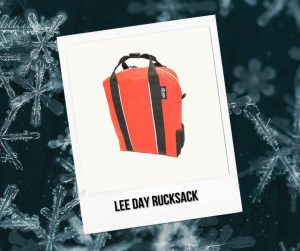 LEE DAY RUCKSACK
Our newest everyday bag – perfect for a day out adventuring or as part of your day to day activities. We've been asked for a smaller bag, made in the same tried and tested materials as our durable kit bags time and time again. This 20ltr rucksack, has loads of room for a day out with your essentials as well as a trusty water bottle holder on the side. There is an internal sleeve, if you would prefer to use the new Lee Day Rucksack for your commute while carrying a laptop.
We've decided to  offer you more choice when it comes to colour options for the LEE Day rucksack. It's now available in Red and Dark Grey in addition to the already popular Olive and Lime green. Priced at £54.95 – find it here.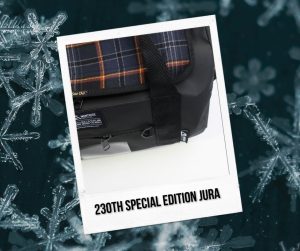 230th SPECIAL EDITION JURA KIT BAG
Our 230th Special Edition JURA Kit Bag is always a favourite at this time of year. To mark our 230th year in business we designed a Special Edition JURA Kit Bag 24″ to celebrate!  This product was developed using the registered 'North Sea Oil Tartan' designed by 'The Tartan Artisan' Steven Patrick Sim who is a textile designer based in Arbroath. Steven designed this anniversary tartan in 2014 to commemorate 45 years of North Sea Oil. As many of you will know, over the last forty years we've made a name for ourselves in North Sea Oil and Gas with countless offshore workers depending on us for our specialised kitbags.
Available in two sizes, the 18″ is £61.00 and you can find it here. The larger 24″ is £75.50 and available here.
Full Product Collection + Gift Vouchers
This is just a selection of our newest products to enter the Montrose Bag Company Collection alongside some trusted favourites that are great as gifts, if you don't see anything that fits the bill you can also find our full product collection here.
Also new this year is our Montrose Bag Company Gift Vouchers – if you're not sure what to gift someone why not let them choose? Available in £50, £20 and £10 – Find them here.
Back to News