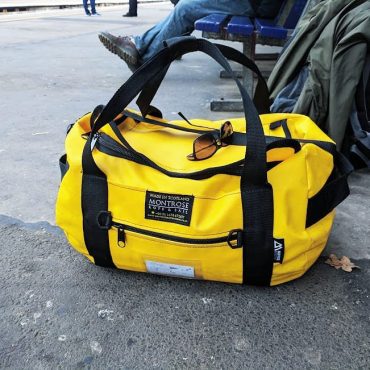 On the hunt for a quality, scottish made, festive Gift for Him? We've put together a selection of our products suitable for any outdoor adventures, from travelling offshore for work with one of our kitbags, to heading off on a trip with some super durable luggage – we've got your needs covered!
All our products are made in our workshop in Montrose by our skilled manufacturing specialists, who all have acquired specialist over many years and have all been trained in house.
As a 4th generation family business, we've perfected our processes and skills over the years to be able to make our products with the utmost care and attention to detail.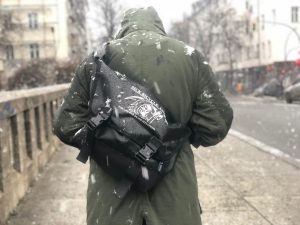 First up, is our Messenger Bag which is featured in the photo above. Our practical, stylish Messenger Bag is made of the same tough, durable, waterproof PVC that our Offshore kit bags are known for.
This product is also lined with PU nylon and features a reinforced PVC coated polyester base which means this bag is perfect for work as well as travelling. Large enough to hold most laptops and with an adjustable strap, it can be worn across the body or over the shoulder and adjusted for your own comfort.
There is also a large exterior zip-pocket to keep all your essentials close to hand whilst a smaller interior pocket fastens conveniently with Velcro internally. An adjustable quick-release front buckle means this bag can expand to carry everything you need and it's easy to access too.
Click the link here to be taken to the website page:
Next is our Esk kit Bag which is one of our higher spec bags.
Named after the North and South Esk rivers that flow through Montrose, our Esk Exec bag organises and protects your belongings in style. Made from tough, durable, 100% waterproof PVC this smart-looking bag weighs in at just under 1.5kg and boasts a 61-litre capacity so you can pack more in. With a reinforced PVC coated polyester base for added protection and wider webbing straps and handles for extra comfort, the Esk Exec bag also meets North Sea helicopter luggage requirements as well as being suitable for outdoor sports and adventures!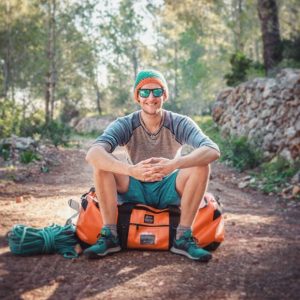 Featuring a waterproof double/lockable zip, an adjustable shoulder strap, and grab handles at either end this bag will take endless wear and tear. You'll also find webbing handles complete with velcro closure, a useful zip-front passport pocket and transparent ID holder. This bag will retain its good looks no matter what you throw at it. Coming in a variety of colours, take a look at the Esk range which comes in two sizes here:
Our Montrose Bag Company Jura Family is a great deal for those of you who love a bargain! Coming as a package of all three of our Jura bag sizes – consists of 3 sizes: 24″, 18″ and a 14″ mini bag.  The Jura Family also comes in a variety of colours.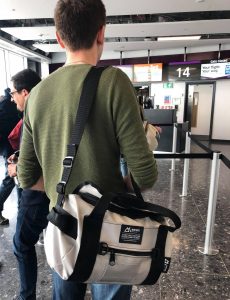 The jura bag range is manufactured from our durable PVC materials that will withstand being pulled and pushed on and off luggage carousels. Equally popular with our offshore workers, the Jura is also a great bag for outdoor activities such as Mountain Biking, Trekking, Camping as well as travelling.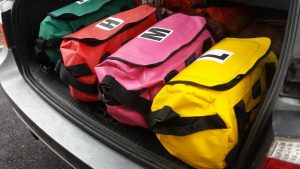 These bags feature adjustable shoulder straps, a grab handles on either end. It also features a covered double/lockable zip, passport pocket and a clear ID card holder. The 18″ and 24″ size also meets North Sea helicopter requirements when it comes to offshore luggage sizes.
Take a look at the full colour range on our website here:
The Cabin Rucksack is a new addition to our range only a week ago but is already proving popular! Based on our current cabin bag, the Cabin Rucksack has been modified with the addition of extra straps and a new lid but is also within the exact Ryanair cabin bag allowance sizes. The extra straps allows it to be carried in multiple different ways and this makes it one of our most versatile products for short travel breaks and hand luggage travellers.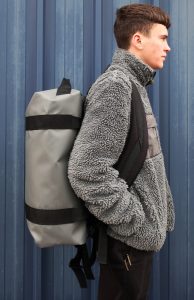 With contrasting 50mm webbing handles, This product is available in three selected colours. Black, Orange and our new Dark Grey material which is featured in the above picture. There is also a covered double/lockable zip, grab handles on either end, padded adjustable rucksack straps, waterproof PVC, webbing shoulder strap and a zipped internal pocket on the lid inside of the bag.
Take a look at this one here:
Last but not least, one of our smaller accessories – our Tool Pouch – makes a perfect add on to accompany one of our larger products.
Although this product is most know as our tool pouch, it is actually a really versatile bag and has been used as a wash bag, organiser within a larger product and also to keep documents in by many of our customers. It comes at a great price too!
If you can't see what you are looking for get in touch with a member of our team through our social media channels, in the contact form below or email: sales@montroseropeandsail.co.uk and we will gladly help you out!
Just a small reminder that as we only hold some stock and generally make to order, our last date for orders is the 6/12/19. This will guarantee your products to be manufactured and shipped to you in time for Christmas!
Back to News